Quick Guide: What is underwater welding and how to get underwater welding jobs!
What is Underwater Welding?
Underwater welding, a term for methods adapted for subsea welding, for the purpose of repairing damage to ships and port facilities, or carrying out welding work related to extensions and repairs of offshore pipelines, subsea structures, oil deepwater facilities for petroleum extraction. The material is usually steel, alloy and unalloyed, and three techniques which is very different from dry welding, can be distinguished: wet welding, trunk welding and hyperbaric welding or dry underwater welding.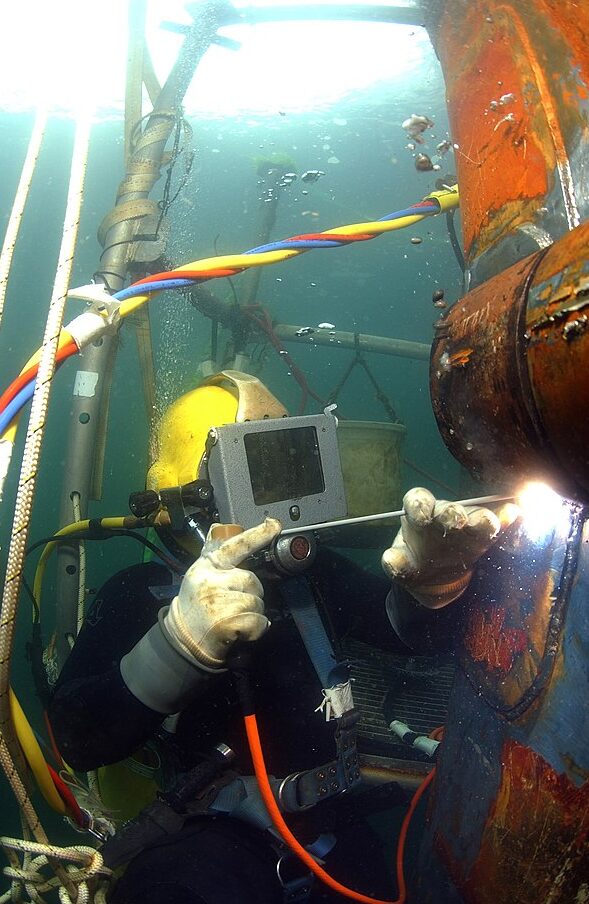 How to become an Underwater Welder?
It should be obvious that you need to have both a welding education and training as a commercial diver, you need a commercial diving school training. There are dive schools that specialise in the underwater welding process and techniques and have their own commercial diving program. There is also the option to join the army and get your diving training there.
Wet Welding by Divers
Wet welding is traditionally performed as manual arc welding by a diver. The welding arc burns in an atmosphere of water vapor, hydrogen and carbon dioxide that it develops at the welding site, and can be more or less stabilized by a conical water shield that is forced out from the area around the electrode holder.
Underwater Welding Jobs
Below is a list of jobs related to underwater welding jobs and vacant positions:
Underwater Welder Salary
The underwater welding salary varies from $25k all the way up to about $100k and is dependent on where in the world you are diving. Some commercial divers even earn more than that is the work is very risky. The annual salary is about $65k and include compensation for travels and accommodations when not on the diving vessel or oil drilling rigs.
Hyperbaric Underwater Welding
Hyperbaric welding or dry welding takes place in a closed chamber (habitat) with an open bottom, and with a dry environment, where the water is kept out of helium mixed with oxygen, compressed to a pressure corresponding to the water depth. The method is used for splicing pipes and repairing pipes in connection with offshore installations and other work in deep water. The first two welding layers in pipes are usually laid with TIG welding, the rest with a covered electrode.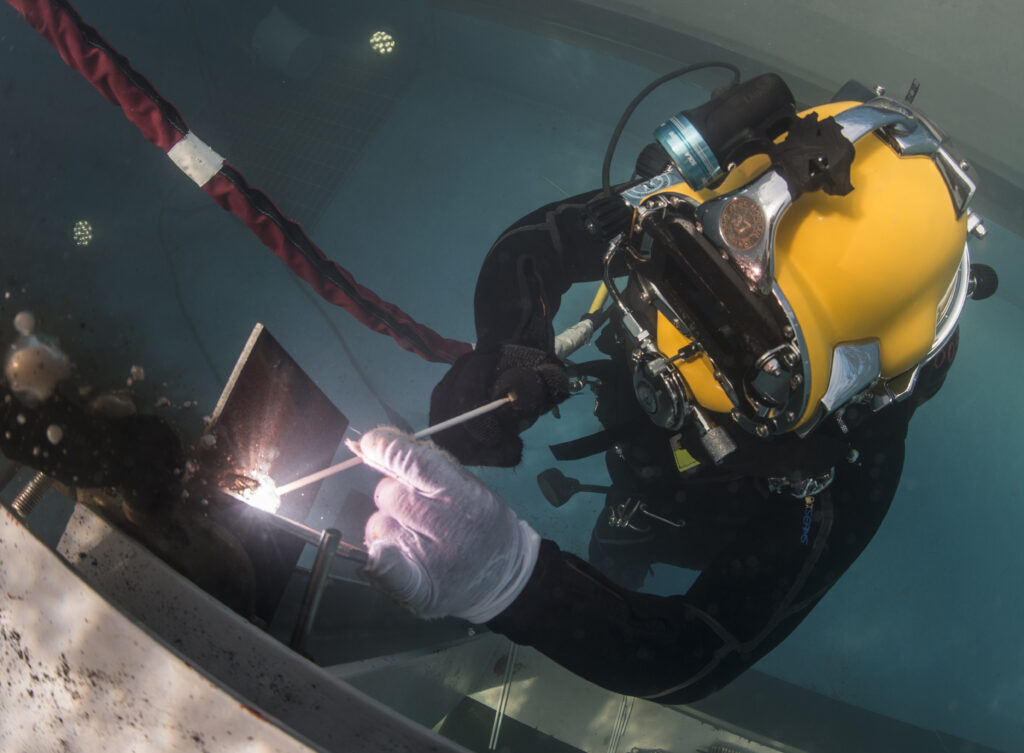 How deep can you Weld under water?
The water depth (high pressure) is a decisive factor for adapting equipment and subsea technology when high quality is to be achieved, and as a rule, high quality is an absolute requirement. With increasing depth, the arc requires higher voltage to maintain the same current, and becomes unstable without special control equipment. Furthermore, the content of oxygen and carbon in the deposit increases with pressure. As long as covered electrodes are used, the depth is limited to 200–300 m, but quality connections have been achieved for significantly greater depths with TIG welding, and they are primarily limited by the safety requirements imposed on the diver.
Subsea Welding Companies