Quick Guide: Subsea Projects in Canada Atlantic Ocean
Where is the Canada Atlantic Ocean?
The subsea oil and gas projects in the Canada Atlantic Ocean, which is a sea between Europe / Africa and America, bounded by the Indian Ocean and the Pacific Ocean by the meridians that run through the southern tips of the two continents. The Atlantic Ocean in the broadest sense extends from the Weddell Sea in the south over the North Pole area to the Bering Strait. The area of ​​the Atlantic Ocean, including all secondary seas, is approx. 106 million km2, ie one fifth of the earth's surface.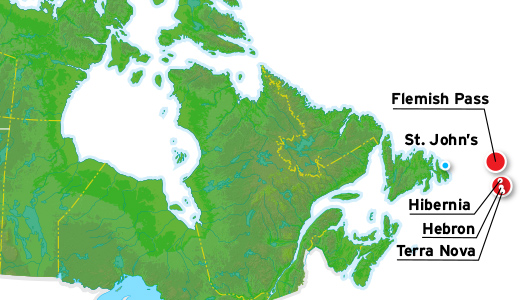 How deep is the Canada Atlantic Ocean?
The most striking feature is the Atlantic ridge, which runs from north to south approximately in the middle of the Atlantic Ocean and approximately parallel to both coasts. The two depressions that thus occur are at a number of more or less clear transverse ridges divided into basins with relatively even bottoms and depths above 5000 m. The central ridge lies over a crack in the earth's crust and is generally less than 3000 m deep.
Subsea Production Systems
Subsea oil and gas field developments and projects in the Canada Atlantic is complicated and it takes years from the initial successful geophysical and seismic surveys to first oil. Exploration drilling and the reservoir can be defined and the volume of oil and gas or condensate can be estimated. The subsea field layout can now be developed, including the design of the subsea production systems, subsea PLEM PLET, pipelines routing and the topside oil production facilities and installations. After all the subsea wells have been drilled and the subsea production systems are installed, the oil production can finally begin.
Canada Atlantic Subsea Projects and Oil Field Developments
Below is a list of Canada Atlantic Subsea oil and gas field developments:
More Worldwide Subsea Projects
The database include many more subsea oil and gas projects which can be can be sorted by oil field areas as listed below. Click on your area of interest to learn more about the projects.