Quick Guide: Subsea Projects in The Caspian Sea Oil and Gas Fields
Where is the Caspian Sea?
The subsea oil and gas projects are located in the northern part of the Caspian Sea is shallow and has a low salinity. The northwestern part belongs to Russia, while Kazakhstan is located in the northeast. In the Kazakh sector is the huge oil field Kashagan. The sea is the worlds largest lake and separate asia and europe.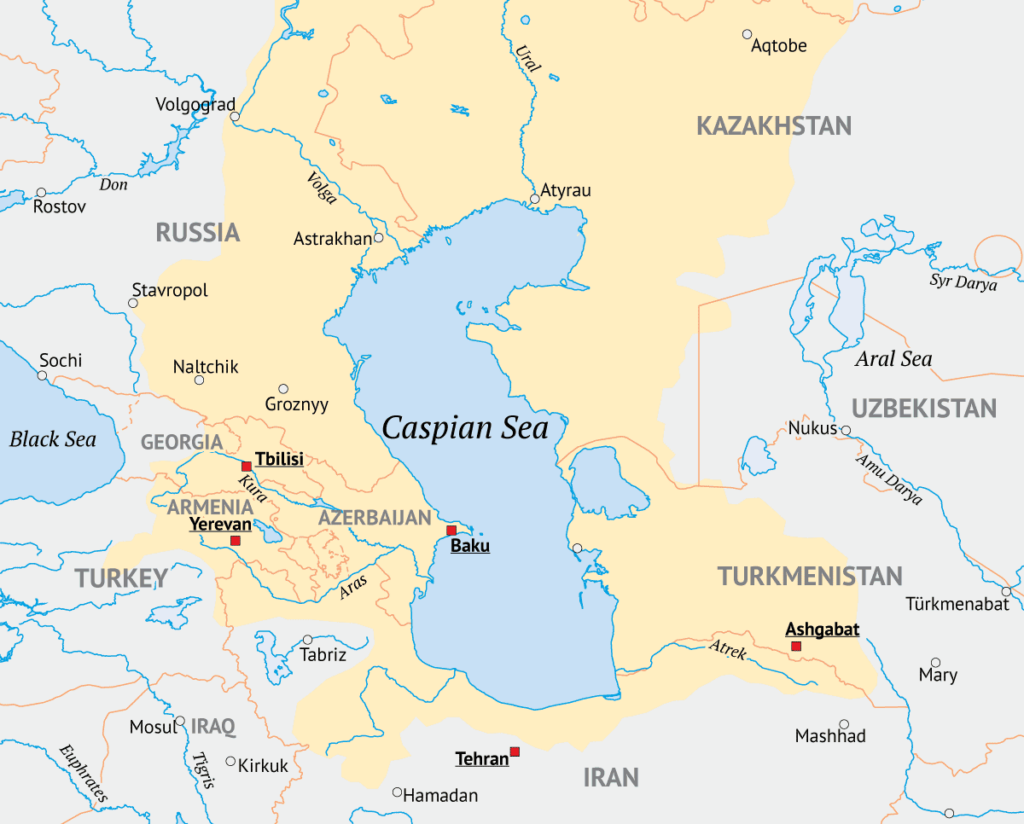 How deep is the Caspian Sea?
The Caspian Sea can be depth rating can be divided into three areas. In the north, the sea is shallow, less than 200 meters, and with average depths of four to six meters. The central area is deeper (789 meters at its deepest), and separated from the southernmost area by an underwater ridge that extends southeast from the Apsjeron Peninsula to Krasnovodsk. South of this ridge, the Caspian Sea reaches its greatest depth, 995 meters.
Subsea Production Systems
Subsea oil and gas field developments in the Caspian Sea is complicated and it takes years from the initial successful geophysical and seismic surveys to first oil. Exploration drilling and the reservoir can be defined and the volume of oil and gas or condensate can be estimated.
Caspian Sea Oil and Gas Projects
The Oil and Gas Fields layout can now be developed, including the design of the subsea production systems, subsea templates and subsea manifolds, pipelines routing and the topside oil production facilities and installations. After all the wells have been drilled and the subsea production systems are installed, the oil production can finally begin.
Subsea Projects and Oil Field Developments
Below is a list of Caspian Sea Subsea oil and gas field developments:
Kashagan by ENI

One of the largest discoveries of the decade and possibly one of the most challenging, the project faced not only the technical difficulties of extracting the oil in the harsh climate but also the political and geopolitical altercations associated with the region. Because of these hurdles, the original production date which was predicted to be ...

Shah Deniz by BP

gas and condensate field, discovered in 1999, located 100km south of Baku at a water depth of 600 metres in the Caspian Sea. Estimated reserves at Shah Deniz exceeds 400 million cubic meters of gas Shah Deniz, Caspain Sea, BP, Asia,

Baku-Tbilisi-Ceyhan (BTC) by BP

The Baku-Tbilisi-Ceyhan (BTC) pipeline exports crude oil from the Caspian to world markets. The 1,768 km route runs from the onshore terminal at Sangachal, near Baku, through Georgia to a new marine export terminal at Ceyhan, on the Turkish Mediterranean coast, thus avoiding the Turkish Straits. BTC construction commenced in 2003 and filling of the line ...
More Worldwide Subsea Projects
The database include many more subsea projects which can be can be sorted by oil field areas as listed below. Click on your area of interest to learn more about the projects.