Quick Guide: How to Get Drilling Rig Jobs in Subsea Oil and Gas Now!
Drilling Rig Jobs Description
The term drilling rig jobs covers a wide range of oil and gas professions working on an offshore or inshore drill barge or offshore platform or installation. The following job positions or titles are normally onboard an offshore drilling platform. From simple roughneck, roustabout and floorman at the lower deck level all the way up to the rig manager, platform chief. There are also positions directly involved in the drilling or workover operation such as derrickman, driller and the drilling supervisor.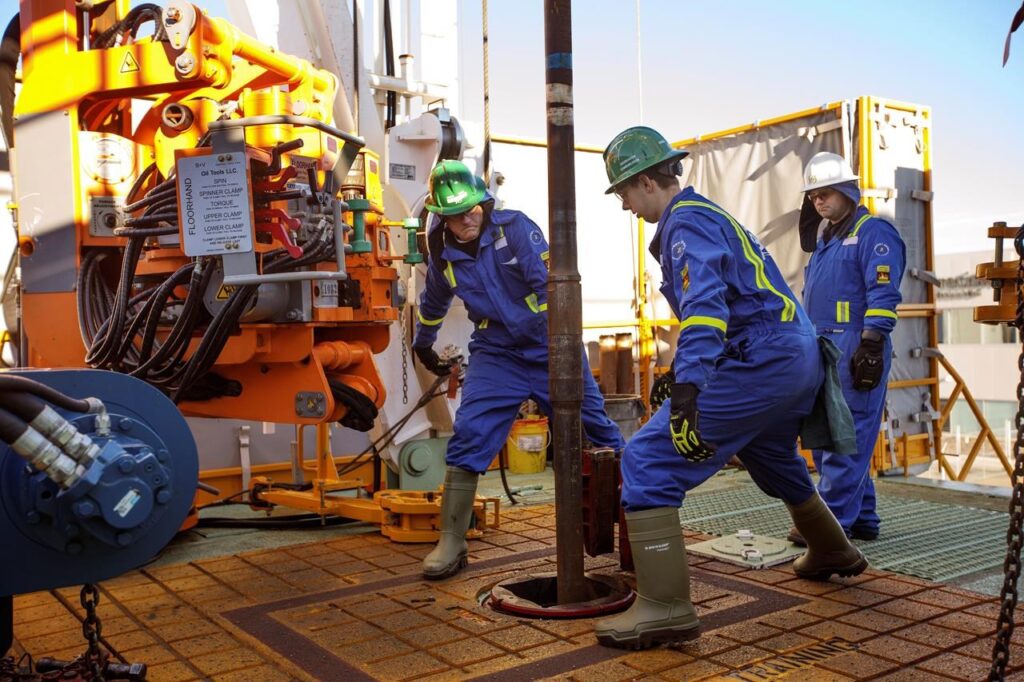 Entry Level Drilling Rig Jobs
You may start you work as a drilling deck worker / floorman / roughneck without a degree or formal education. This is one of the entrance professions for work offshore on a drilling rig. The drilling deck worker works with practical tasks on the drilling deck in the actual drilling deck operation.
Find drilling and well services companies
The entry level drilling rig jobs work tasks may include to operate rotary and percussion offshore drilling machinery and equipment for drilling oil and gas wells, clean and replace drill strings, liners and pipes, remote operating hydraulic and mechanical equipment, maintenance of equipment and putting drill pipes in the right place, have emergency tasks such as lifeboat operator.
Drilling Rig Jobs Salary
How much do you earn from working on a drilling rig? The drilling rig jobs salary and how much you will actually earn in an offshore job depends on which position and which company you are employed in, but a starting salary of $25k – $35k a year, plus supplements, is considered normal. As the experience and with higher ranking positions, the salary may increase significantly. You will also be on an offshore rotation, which means you will probably be working 12 hours a day when offshore for 2-3 weeks and then have 1-2 weeks off when you are onshore.
Top Oil and Gas Job Careers Paths for Graduates
What do I need to get a job offshore? The career path depends on which profession you want to enter. Having an education as a mechanic or electrician is good basis for graduates. The minimum for everyone who will work offshore is that they must have an approved health certificate, as well as safety course. Most drilling positions require that you have good knowledge of English and applicants with a trade certificate and relevant experience will most often be preferred.
The following companies may be hiring now:
Oil and Gas Drilling Rig Jobs Near Me
Most of the jobs are with companies in the major oil and gas hot spots such as Stavanger, Norway, Aberdeen, Scotland, London, UK, Houston, USA and Perth, Australia. If you like to travel there are also many drilling rig jobs in Singapore, Luanda, Angola, Port Harcourt, Nigeria and Rio, Brazil. To find "drilling rig jobs near me" you can use the search field at the right side on this web site and enter your country or part of the world you want to work in and the search results gives you offshore companies hiring. Transocean have many offshore opportunities.
List of Top 10 Job Descriptions
Below are the full list of work descriptions that are related to the drilling rig category. Click the link to find all jobs and available positions under each job description:
Top 10 Drilling Rig Jobs
Below are the top 10 offshore oil and gas jobs list in the subsea oil and gas jobs and careers database: