In June of 2001, the "Nanhai Endeavor" FPSO hull was launched. The "Nanhai Endeavor" is a turret-moored FPSO designed for typhoon populated areas.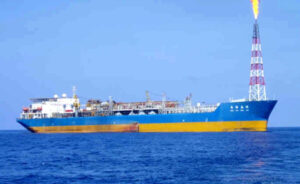 With a capacity of 150 thousand dead weight tons, it will play a vital role in the development of the Wenchang oil fields. CNOOC is producing oil from two platforms completed in January of 2002 as well as the FPSO "Nanhai Endeavor." The integration of the FPSO topsides and hull was completed during the third and fourth quarter of 2001.
The installation of the FPSO and the wellhead platform was completed in the fourth quarter of 2001. First oil was achieved in June of 2002. Oil production for the project is estimated to have an approximate peak production rate of 50,000 barrels per day. Independent consultants have estimated recoverable reserves at approximately 100 million barrels for the Wenchang fields.
Wenchang, South China Sea, CNOOC, Asia,